Thank you to those who left a comment to my post a couple weeks ago about taking a
lonely lunch break.
I've been so busy with life and work that I haven't had a chance to thank everyone for commenting.
I am glad to know that I am not alone. Thanks for the great ideas: reading a book and going for a walk. I do have some books I have been dying to read on my bookshelf, so this is a great opportunity to do that. I read so much in my work that I often do not have time to read for pleasure. I used to really enjoy reading for pleasure, so here is my chance. I've had this book on my bookshelf for a while: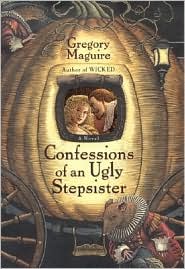 It is by the same author as
Wicked: The Life and Times of the Wicked Witch of the West
, which I really enjoyed reading. (I haven't seen the musical
Wicked
and I am dying to see it!! Unfortunately, I don't think it is in our budget to see it. I am so sad that it will be leaving Los Angeles and that I am not going to get to see it before it goes, sigh! It is times like this that I hate being financially responsible and living on a budget. Oh bother.)
Thanks again for the suggestions!