Since I am now
training
for the run part of a triathlon, I figure it was time to get some new running shoes. I was noticing some knee pain when I run and was starting to get some shin splints. I had heard that one should get their running shoe fitted, so I decided to go to the local running store and get myself fitted for a running shoe.
When I got there, the salesperson asked me what I was training for and I told him that I was training for a triathlon. Then he put me on a treadmill and after watching me run for a minute he told me that I have severe
overpronation.
He explained that overpronation is actually quite common and that when I run my foot rolls inward, thus turning the lower leg inward. This can place stress on the back, the hip, and the knee. (That explains some of the pain I have been experiencing). He also took a look at my current running shoes and said that they were neutral running shoes that did not provide me the support I needed. I need a stability running shoe to provide my foot support for the overpronation. A stability running shoe provides extra support on the inside of the midsole (the thick hard foam part of the running shoe). The inside of the shoe will be compressed less under load and support the inside of the foot preventing it from rolling in or flattening.
He brought out 6 pairs of shoes and had me try them all on. They were all stability running shoes and I just had to pick the one that I felt most comfortable in. After trying on the shoes and running around the store testing them out, I choose the New Balance WR1223: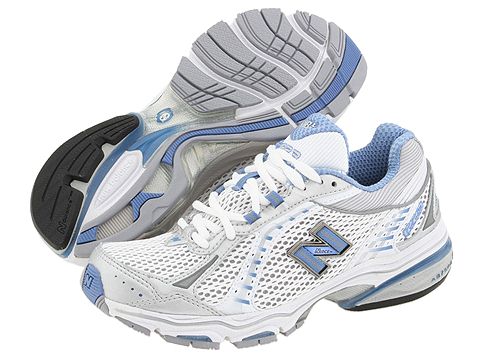 I also tried on several Brooks and Saucony shoes but in the end the New Balances won out since they were the most comfortable. This was the runner up:
I ran in them last week and they felt really good. I didn't have any knee pains and no shin splints! They were a little more expensive than I would have liked but in the long run they are worth it to be able to run pain free and to train.